Second book launching soon on Barnes & Noble * Google Play books * Ingram Sparks * KDP Amazon
by Kim Turton Palmatary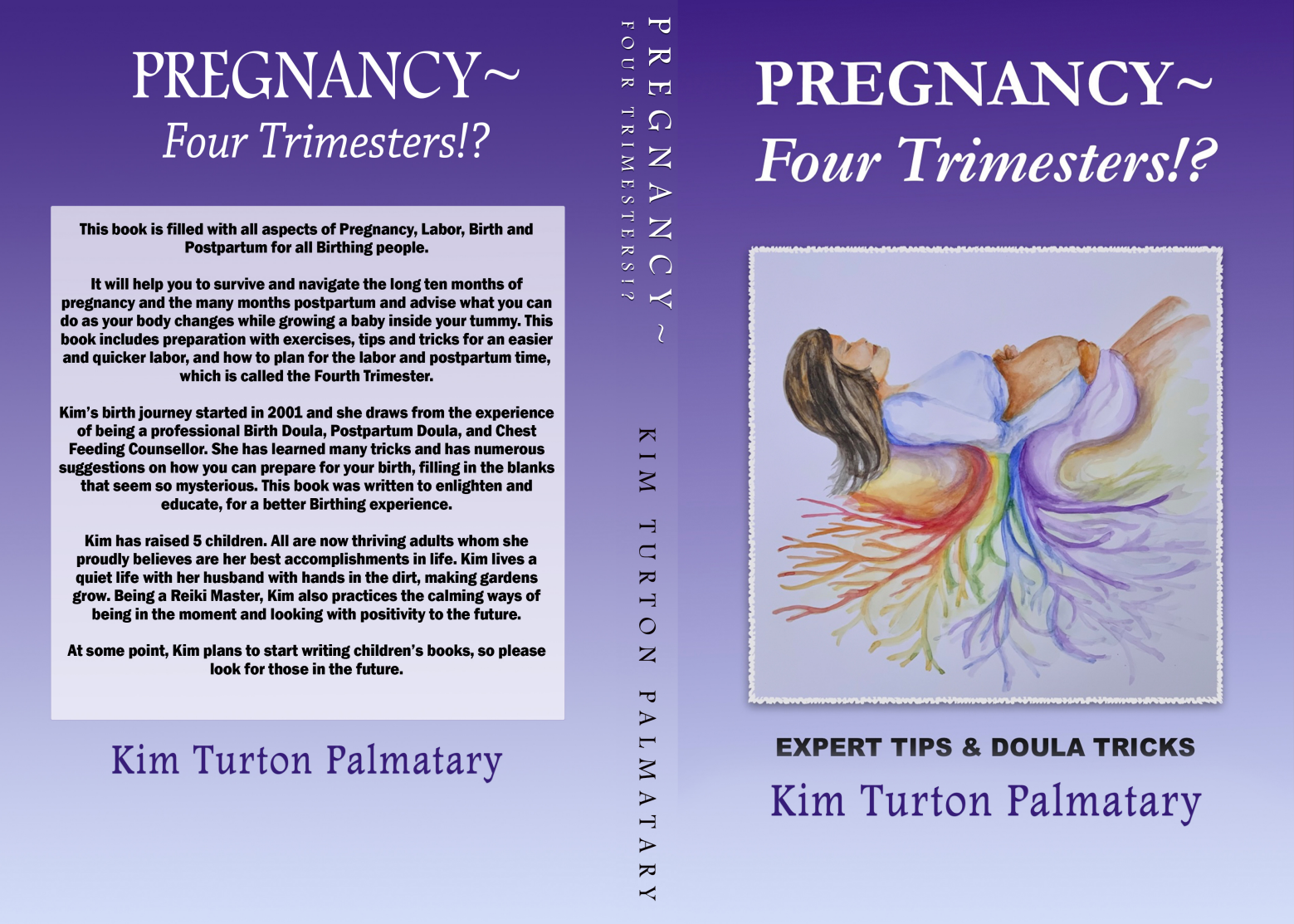 Author Kim Turton Palmatary Empowers Expectant Families with Comprehensive Guidebook: "Pregnancy ~ Four Trimesters!? Expert Tips & Doula Tricks"
Renowned author and experienced doula, Kim Turton Palmatary, is delighted to announce the release of her latest literary work, titled "Pregnancy ~ Four Trimesters!? Expert Tips & Doula Tricks." With a profound dedication to empowering expectant parents, Kim's book offers an inclusive and informative guide to navigating the intricacies of pregnancy and childbirth.
This comprehensive publication has been meticulously crafted to cater to all gender-neutral birthing individuals. Kim underscores the significance of understanding birth choices, respecting diverse experiences, and providing unwavering support to expectant families. In a heartfelt expression of gratitude, Kim acknowledges the profound contributions of renowned expert Dr. Jack Newman, ensuring the preservation of his invaluable insights within the book.
"Pregnancy ~ Four Trimesters!? Expert Tips & Doula Tricks" serves as an invaluable resource, offering expert guidance while encouraging readers to seek personalized medical advice from healthcare professionals. Kim underscores the importance of transparent communication with healthcare providers to ensure that readers are well-informed about procedures and terminologies relevant to their unique circumstances.
The book also features heartfelt testimonials from satisfied clients, offering a glimpse into the author's steadfast commitment to providing emotional, physical, and informational support throughout the childbirth process. Kim's role as a doula, as elaborated in the book, extends beyond physical assistance, encompassing the building of trust, education, and advocacy for the birthing person, partner, and baby.
Within the pages of her book, Kim redefines the role of a doula, highlighting the vital importance of their continuous, non-medical support. Combining expertise, compassion, and a touch of humor, Palmatary expertly guides readers through the profound journey of pregnancy, labor, and postpartum care, ensuring that families are well-prepared for the transformative experience of childbirth.
About the Author:
Kim Turton Palmatary is a seasoned doula with a wealth of experience, having successfully raised five thriving children who she considers her greatest life achievements. Kim and her husband lead a serene life, nurturing gardens and practicing the calming principles of Reiki. With a vision for the future, Kim also intends to venture into the realm of children's literature, offering more literary contributions to look forward to.
This book is filled with all aspects of Pregnancy, Labor, Birth and Post Partum for all Birthing people.
It will help you to survive and navigate the long ten months of pregnancy and the many months postpartum and advise what you can do as your body changes while growing a baby inside your tummy.  This book includes preparation with exercises, tips and tricks for an easier and quicker labor, and how to plan for the labor and post partum time, which is called the Fourth Trimester.
Kim's birth journey started in 2001 and she draws from the experience of being a professional Birth Doula, Postpartum Doula, and Chest Feeding Counsellor. She has learned many tricks and has numerous suggestions on how you can prepare for your birth, filling in the blanks that seem so mysterious.  This book was written to enlighten and educate, for a better Birthing experience.
Kim has raised 5 children.  All are now thriving adults whom she proudly believes are her best accomplishments in life.  Kim lives a quiet life with her husband with hands in the dirt, making gardens grow.  Being a Reiki Master, Kim also practices the calming ways of being in the moment and looking with positivity to the future.
At some point, Kim plans to start writing children's books, so please look for those in the future.